Kushy Punch
KushyPunch is one of the most iconic cannabis brands, and the top-selling gummy in California. Our locally sourced full spectrum oil, our science-forward approach and lush full body high has made us a favorite!
Set your delivery address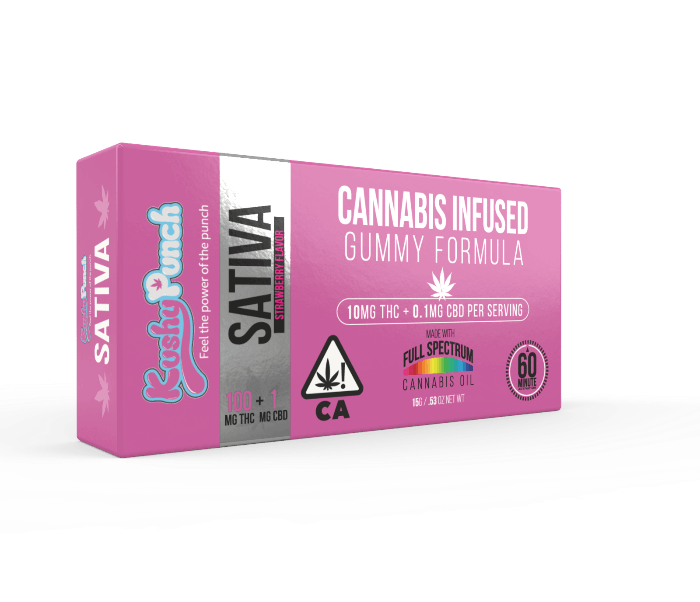 KushyPunch's 100mg sativa gummy is their top-selling product. The succulent strawberry flavor is perfectly blended with an earthy, potent full-spectrum oil, giving you a great taste and a rich high that truly stands out from other edibles.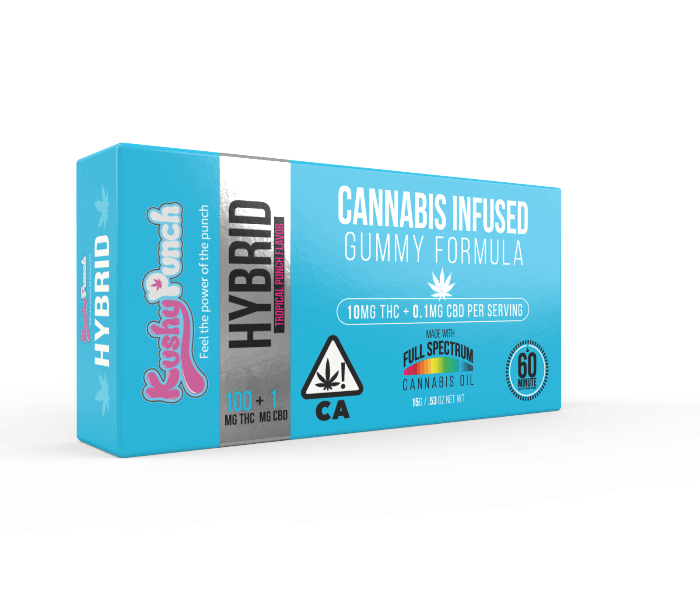 KushyPunch's 100mg hybrid gummy's raspberry flavor pairs perfectly with our famous full-spectrum oil, delivering a down-the-line, head-body high that is like nothing else out there.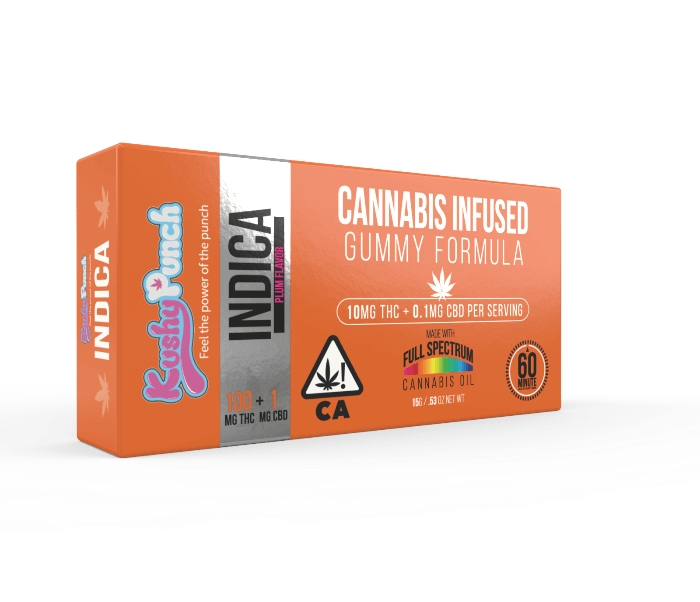 The attractive, enigmatic watermelon makes his appearance rather gallantly, offering you a taste as deep as its flesh is ripe. The midsummer's harvest delivers you a unique flavor, commonly overlooked, yet rarely forgotten. As you melt into your couch, you're reminded of the calming, relaxing, and pain-relieving effects of Indica. Reward yourself with a slice of healing.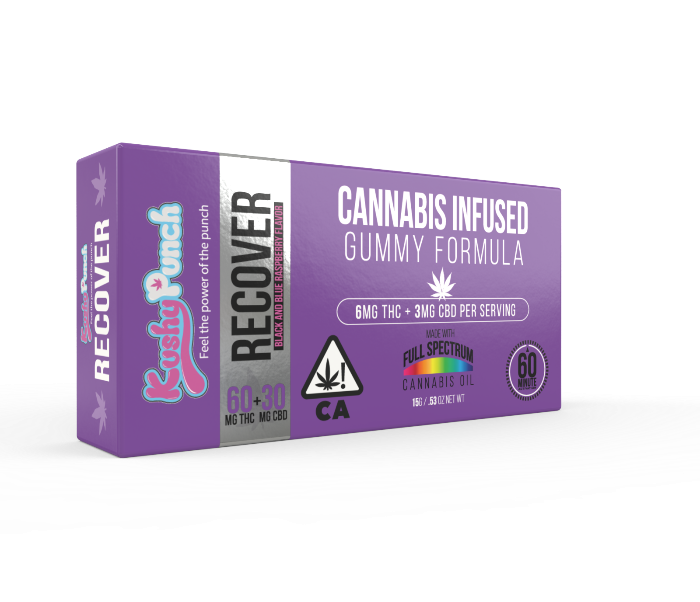 Kushy Punch Recover has a soothing formula that can help alleviate pain with a mild, full body high. Each pack Contains 10 delicious pieces of Blue & Black Raspberry flavored gummies. Each piece has 6mg THC + 6 mg CBD.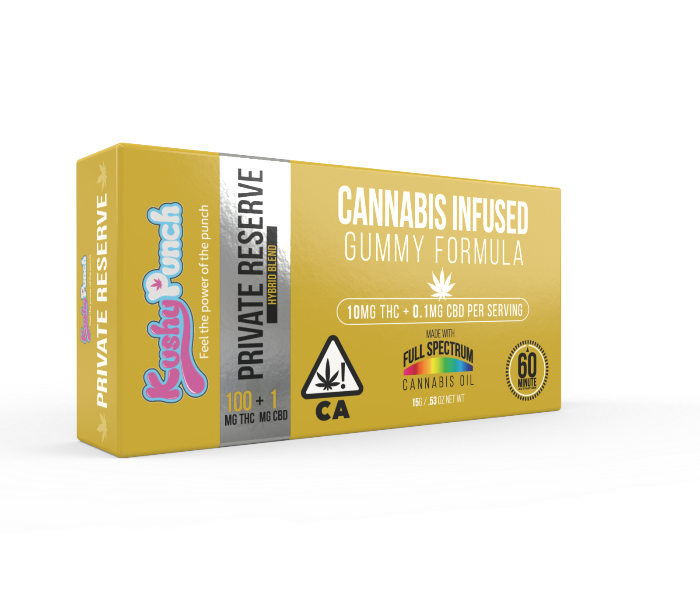 KushyPunch's Private Reserve has been called "the dab of edibles". With 95%+ pure THC and none of the cannabis taste, PR promises a super clean, knockout punch in 60 minutes. When a regular KushyPunch edible just isn't quite cutting it, look no further than Private Reserve. This is perfect for anyone that can't do the taste of full-spectrum oil, or for the bold ones among us that are mourning the loss of the TKO….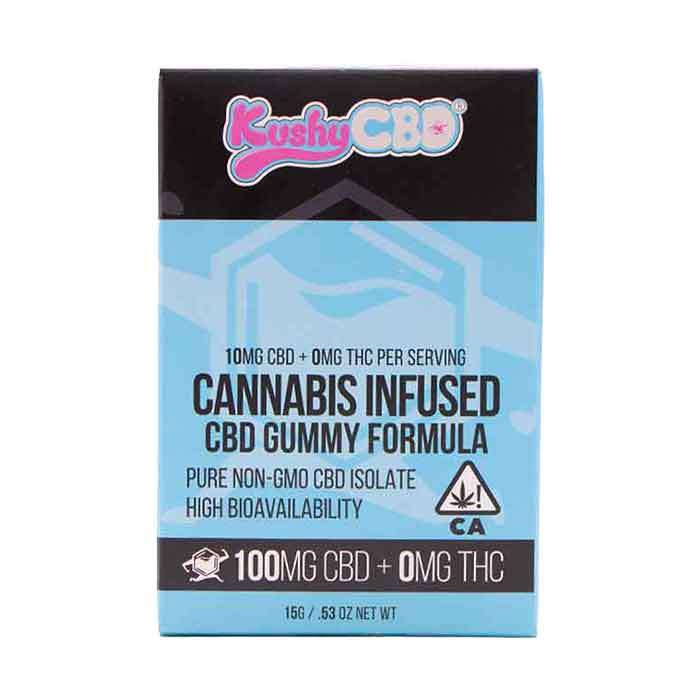 Peach Flavor Ingredients: Tapioca Syrup, Organic Cane Sugar, Water, Gelantine Leaf, Citric Acid, Natural Flavor Extract, Cannabidiol Isolate, FDA Approved Coloring The power of Kushy CBD's pure CBD isolate teams up with the crisp taste of peaches. Light yet distinctive in flavor, these gummies are bursting with full-bodied fruit essence and CBD potency. They are proud to say that our CBD gummies are Non-GMO as well as Gluten/ Peanut/ Fat/ and Dairy Free. 100mg CBD per box (4 x 25mg squares) – Natural Peach Flavor – 99.5 % Pure CBD Isolate – Infused with Natural Terpenes and Essential Oils – Non-GMO – Gluten-Free, Peanut-Free, Dairy-Free, Fat- Free – 3rd Party Lab Tested ATTENTION: LAB TEST RESULTS CAN VARY FROM BATCH TO BATCH BY AS MUCH AS +/-%10.